Supporting Marine Conservation in 2022 SDGs English Summer Camp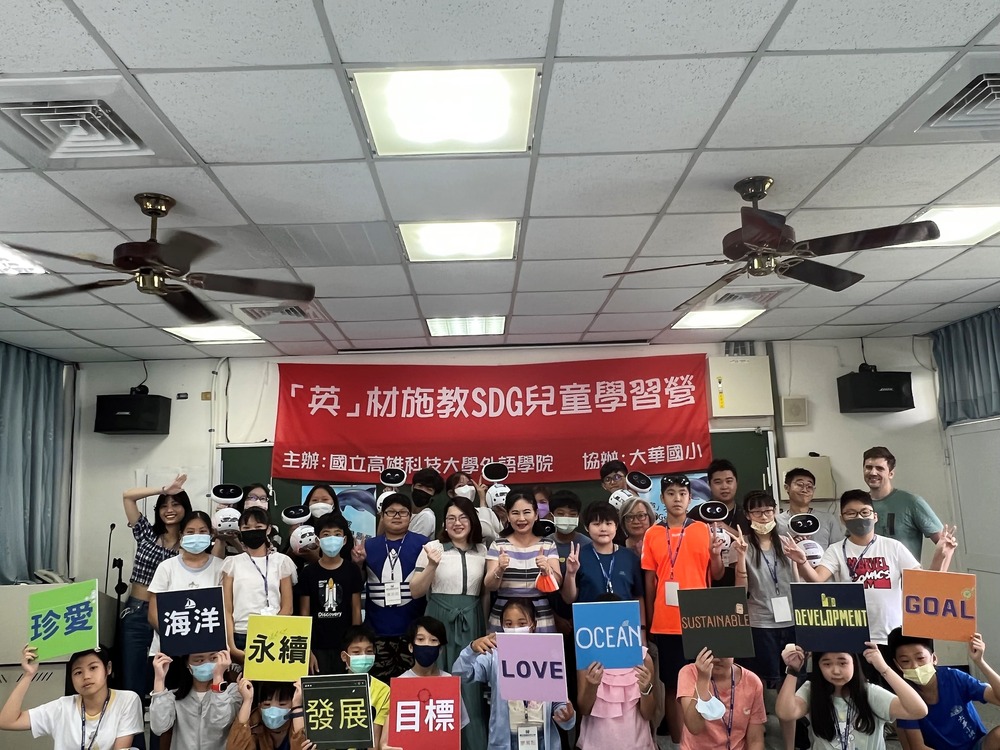 Release Date 5 September 2022 Mandarin
To support the government's Bilingual Nation 2030 policy and the UN's Sustainable Development Goals (SDGs), the Foreign Languages College (FL) held the 2022 SDGs English Summer Camp for Children at the Da-Hua Elementary School (大華國小) in Niaosong District from Aug 22 to 26.
In the English Camp, many students enhanced their speaking skills through interactive games and reading competitions, which stunned their parents. The University conducted this English camp that brought into play the power of "university social responsibility" and practiced the SDGs.
Using picture books and Zenbo Junior, an AI-enabled robot, NKUST students as English tutors taught elementary students to understand the marine environment and the UN's SDG 14 Life Below Water.
Through the English camp, children learned (1) the impact and danger of marine debris, (2) how many efforts human beings have made to protect marine ecology, and (3) the negative influence of overfishing.
Building on the idea of educating through play, the English camp sought to increase young children's skills in speaking English through group discussions and interactive games.
On the last day, the University used its reading competition to demonstrate what children have learned. Judges of the competition were impressed by the children's speech contents and English pronunciation and gave a high score for their achievement.
Chuang, Ming-Kuang (莊明廣), president of Da-Hua Elementary School, expressed his appreciation to the students of Foreign Languages College, who guided the children to understand SDG 14 and care about marine conservation.
NKUST students taught with patience and educated the children through playing games, that increased children's enthusiasm to learn and play.
The reading competition helped children to develop their courage to deliver an English speech in front of the public. Their parents were proud of the children's performance and expressed their appreciation on the Facebook page of the English camp.
"We hope our English Camp can not just teach children to learn ocean-related vocabulary but also raise their awareness of marine conservation and global environmental protection issues. And children did learn to love, protect, and treasure our ocean resources, which complied with the mission goal set by the UN's SDGs," said Dr. Shih, Chung-Ling, Dean of Foreign Languages College.
The 2022 SDGs English Summer Camp for Children held by FL provided students with interesting ways to learn English and teach children the knowledge of environmental protection.
Further Reading
---
NKUST Won 3 Gold and 1 Silver in the 2022 TSAA
---
Translated/Edited by Jess Lin