e-Watcher and Fubon Life Team Up to Keep Rivers Clean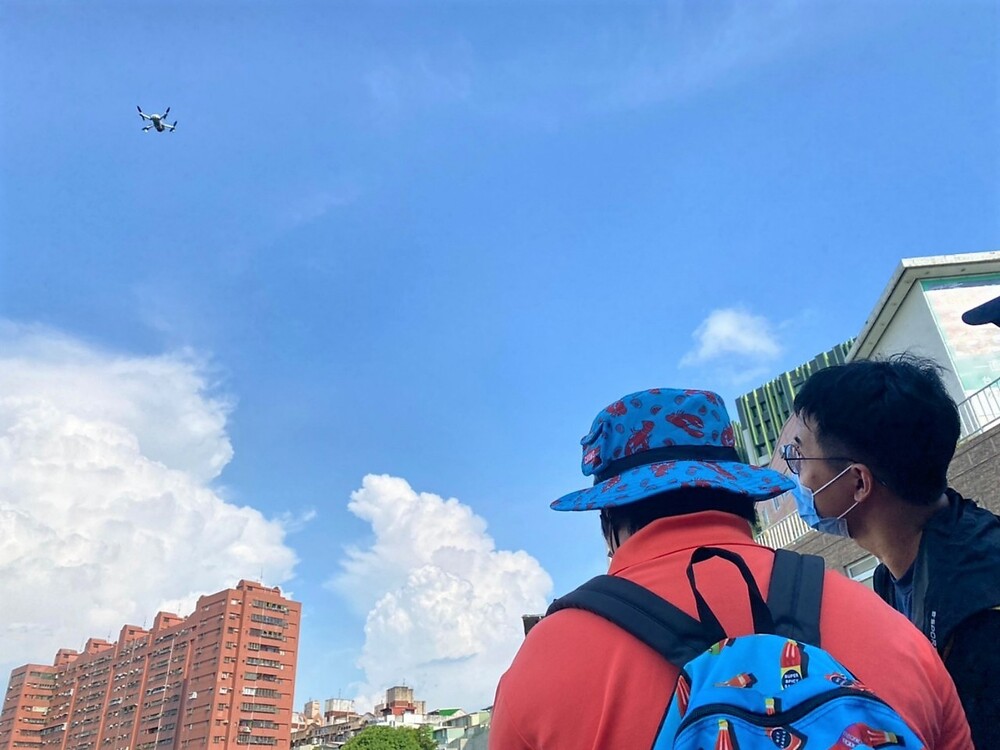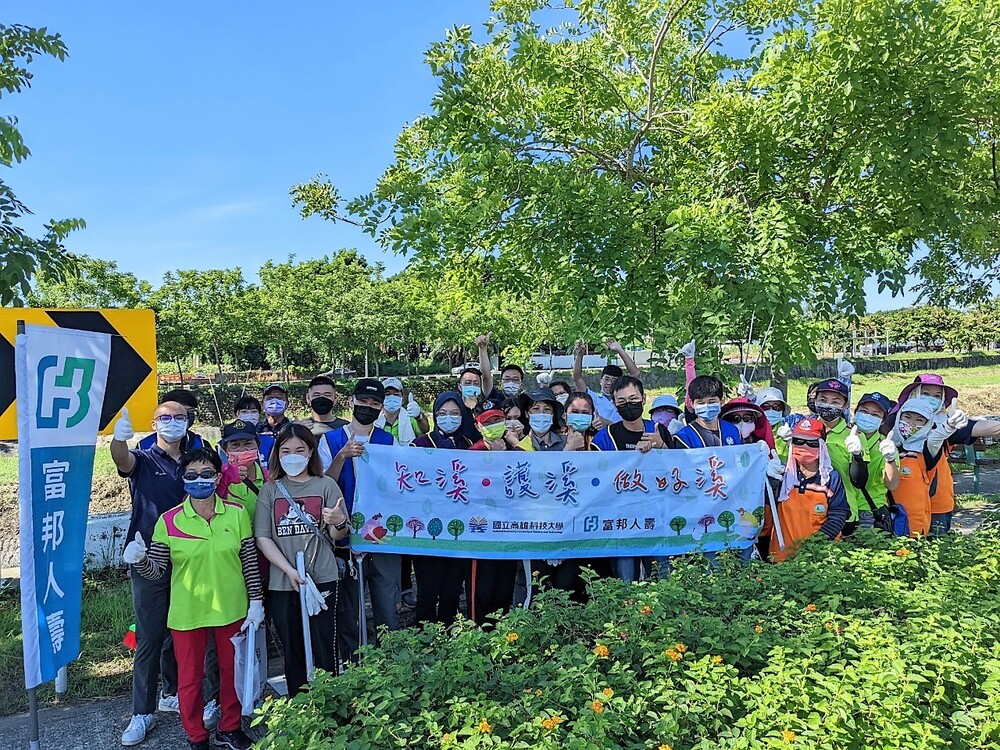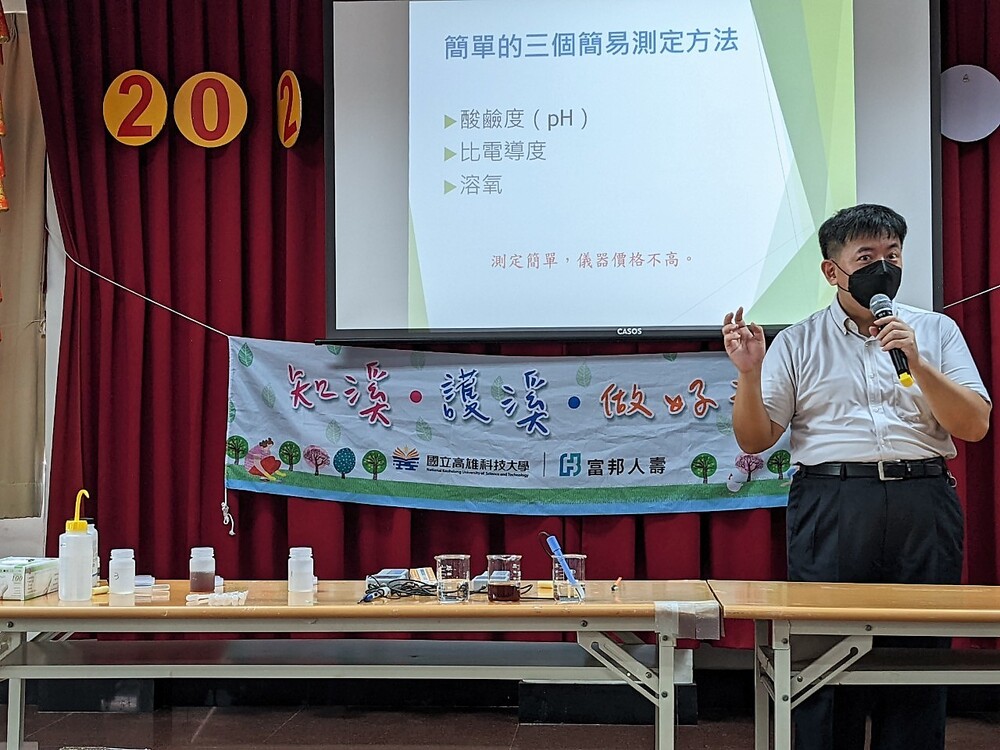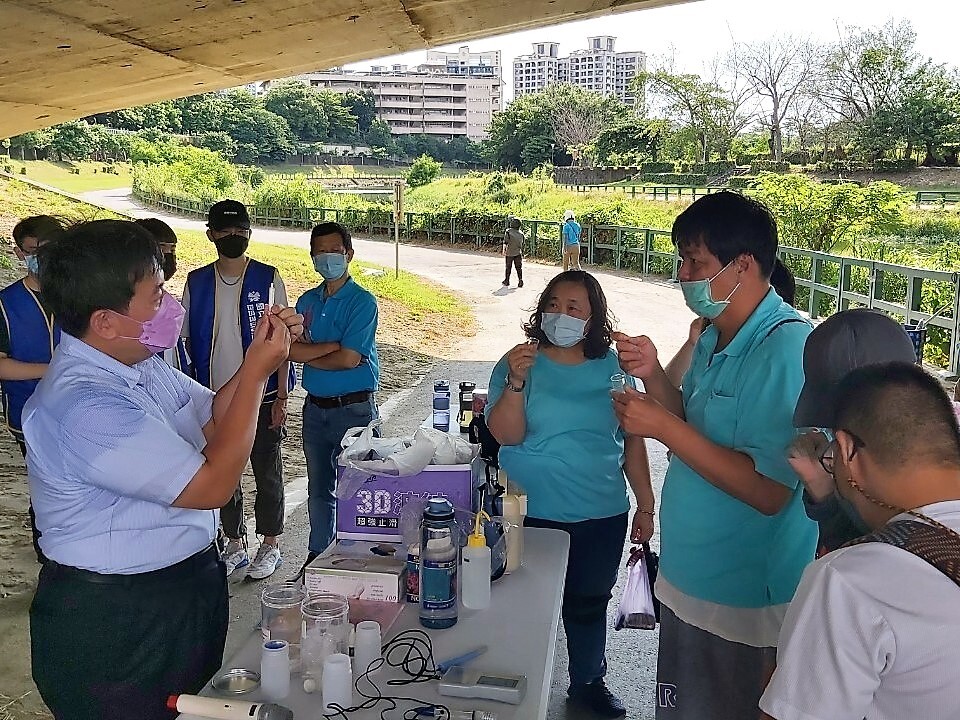 Release Date 8 September 2022 Mandarin
In Taiwan, there are 23% of rivers moderately or severely polluted, and the worst rivers of all are situated in southern Taiwan. NKUST Safety, Health and Environmental Engineering Department (SHE) works hand-in-hand with Fubon Life Insurance Co., Ltd. (Fubon Life) to launch the love, protect, and restore our rivers program (知溪.護溪.做好溪計畫) under the USR project, e-Watcher (智慧守望,環境再生).
Taiwan has over 100 river systems, and about 50 are main streams. Such abundant water resources have incubated many rich and attractive cities and also have become memories of many.
Due to economic development, many catchment areas are exposed to pollution sources. According to the 2021 Yearbook of Environmental Protection Statistics (110年環境保育統計年報) released by the Environmental Protection Administration (EPA), Taiwan has near 23% of rivers, 662.6 kilometers long, is considered to be moderately or severely polluted, showed on the Pollution Index of Important Rivers (重要河川污染指標概況). The worst polluted rivers are all in the southern area.
The e-Watcher USR project has banded together with Fubon Life to promote the love, protect, and restore our rivers program. It aims to galvanize residents to identify and preserve rivers nearby their communities, hosting clean-up campaigns and workshops to trigger the feeling of identification that wells up within residents to protect rivers within their communities.
Last year, the program combined its ecological survey with a social media campaign. This year, the program plans to motivate stakeholders. It hopes residents know that rivers are closely connected to their daily lives. With proper education and actions, residents can protect and conserve their lovely rivers.
The program team invited NKUST students, residents of Nanzih and Gangshan Districts, and volunteers of Fubon Life KH568 to care about the Dianbao River, the Houjin River, and the Akungtien River.
It holds a River Clean-ups Workshop (河川清淨知能工作坊), themed around "My home has a Little Stream Out Front," and uses actual cases to educate participants on hard-to-notice pollutants on the periphery areas of rivers.
After lessons, it starts a series of protecting our river patrol activities (河川巡守暨清淨行動). Participants learn to operate instruments testing samples, use the drone to monitor the river basin, know the water quality of rivers around their community, and clean waste away from their rivers.
"We are glad Fubon Life shares the same determination to conserve the water environment with the University. Our collaboration increases the capacity to love, protect and restore our rivers program," says Lee, Chia-Wei, project head of e-WATCHER and SHE Associate Professor.
The collaboration has connected 4 local patrol squads, a total of 160 members, to monitor river environments. The patrol squads are formed by students, residents, and Fubon Life KH568 volunteers. Ages of members are around all ages, but all are determined to take action and make a contribution to their communities.
The e-Watcher will continue to work with the industry and communities to raise the public's awareness of environmental protection, practice the SDG 6 mission goal, "everyone can access safe and affordable drinking water," and safeguard Taiwan's environment.
Fubon Life
Fubon Life has long been focusing on environmental sustainability and supporting "River Pollution Investigation in Taiwan (河川廢棄物快篩調查計畫)" launched by the Society of Wilderness (荒野保護協會) for three years.
Further Reading
---
Air Quality and Health Workshop Launched in NKUST to Boost Public Awareness
---
Fubon Life Insurance Co., Ltd. (Fubon Life)
---
SDG 6: Clean water and sanitation
---
Translated/Edited by Jess Lin