【Announcement】Covid-19 Safe Campus Practices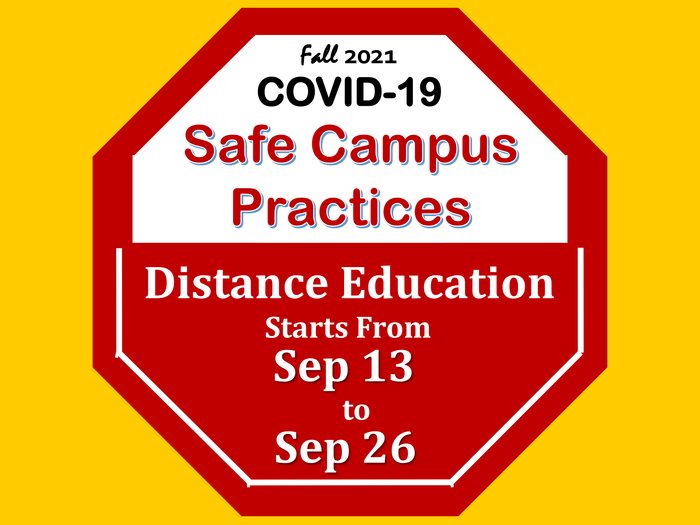 Release Date 3 Sep 2021 Updated Date 9 Sep 2021 PM 14:00
In fall semester 2021, as there are only a limited number of students, faculty, and staff received their first shot of vaccine or being fully vaccinated, NKUST will start remote education from Sep 13 to 26 and resume in-person classroom instruction on Sep 27.
NKUST has enhanced health and safety measures to protect our students, faculty, and staff to reduce the spread of Covid-19 on campus. Faculty, staff, or students must follow these requirements. They include:
Quick Link: Campuses Access Control, Event, Gatherings, and Meetings Requirements , Dining Service , Gyms, Fitness Centers, and Recreation Rooms , Libraries
1. All campuses will enforce entry restrictions and open single entrances for entry or exit.
2. Temperature checks will be performed by campus security guards upon entering campus gates. Students, faculty, staff, and visitors who complete temperature checks will receive a stamp.
3. Visitors for official university affairs should scan COVID Tracer QR codes assigned to offices or buildings.
4. The access control is subject to change depending on pandemic severity.
For in-person activities or programs on or off campus must follow these requirements.
1. The university only allows gatherings of 80 or fewer individuals indoors and gatherings of 300 or fewer individuals outdoors.
2. All gatherings must:
- offer fixed seating;
- comply with mask-wearing requirements;
- have designated staff to take participants' temperatures and sanitize their hands with alcohol-based sanitizers;
- provide QR codes for participants to scan with their cellphones;
- allow for participants to maintain 1.5 meters distancing indoors and 1 meter distancing outdoors;
- observe CDC and Kaohsiung City Government's rules if meal services are required; and
- submit the NKUST Activity Covid-19 Screener to the university COVID prevention team ten days before the activity if it allows off-campus guests to participate.
To avoid the spread of Covid-19, we strongly recommend members of the NKUST community replace in-person meetings or activities outside of campus with video-conference calls or virtual activities.
No Self-Served; Takeout Only. Safety measures will be the same as the previous notification.
1. All facilities and spaces are only open to members of the NKUST community.
2. Face masks must be worn in or at all sports spaces.
3. Indoor gyms, fitness, tennis centers are closed. Organizers of special events must receive prior approval to hold activities in these indoor spaces.
4. Swimming pools are closed.
1. All libraries are only open to members of the NKUST community.
2. NKUST members must comply with temperature checks, mask-wearing, and hand-sanitizing requirements.
3. Open Hours: 08:30-22:00 from Mon to Fri. 09:00-17:00 on Sat. 09:00-17:00 on Sun. Confined spaces are closed. Due to the Moon Festival, Library will be closed from Sep 18 (Sat) to Sep 21 (Tue.), 2021.
4. Extension of loan period:
(1) All Class of 2021 Graduates: Sep 10, 2021.
(2) Current students and other readers: Oct 1, 2021.
Contact Information: Librarian (English): ex. 22217; email: oaoffice01@nkust.edu.tw.
---
Written/Translated by Jess Lin