NKUST and KMU team up to offer PBL courses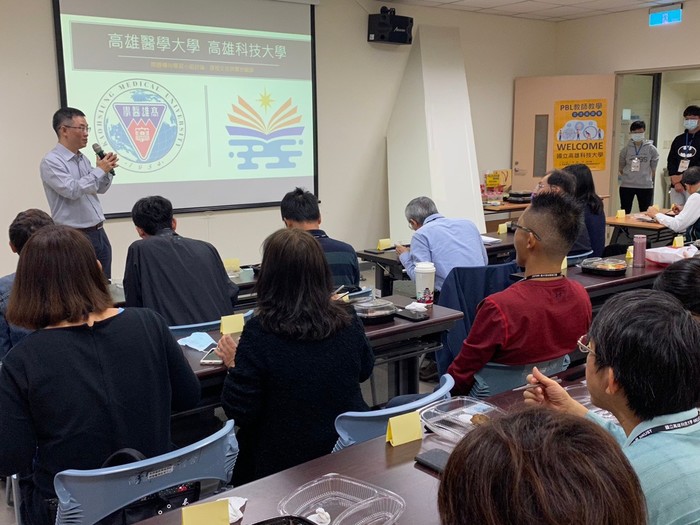 Release Date 08 February 2021
Problem-based Learning (PBL) is one of the key teaching methods to cultivate interdisciplinary talent. For the past four years, National Kaohsiung University of Science and Technology (NKUST) has cooperated with Kaohsiung Medical University (KMU) to introduce PBL into the classroom and to develop many courses.
There have been over 212 PBL courses successfully created and received subsidies from the schools. More than 6,000 students have joined PBL courses and over 80% of them have given positive feedback on end-of-semester student evaluations. Over years of development of e-Learning, NKUST won four out of eight categories in the 2020 National Online Extension Education Award (NOEEA), and three nominated PBL courses won the awards.
To enhance learning and teaching in NKUST, the Office of Academic Affairs set up the Center for Teaching and Learning Development, introducing innovative teaching approaches to improve education quality and student learning. It is believed that this new teaching-and-learning method will prepare students to be ready for the challenges in their future performances.
"This was exactly how I imagined an ideal college class would look."
This PBL approach aims to strengthen students' ability in critical thinking, self-learning, data collecting, and problem-solving. Through PBL courses, both schools have received good feedback from students who even reported that: "This was exactly how I imagined an ideal college class would look."
In addition, the Ministry of Education pays attention to the Improvement of Teaching Plan. The plan fosters teacher's collaborative culture and introduces peer observation and collaborative course discussion. NKUST and KMU have worked together to implement these measures in PBL courses to support the sharing and inspiring of best teaching practices in medical and non-medical instructions.
Courses won awards
In the post-pandemic era, e-Learning becomes a vital tool for education. NKUST has long been invested in e-learning and launched numerous excellent lessons on Massive Open Online Courses (MOOCs). In 2020, three NOEEA awarded PBL lessons are "Learn German on the Go: Level A1," "Taguchi Method" and "Japanese Learning Notebook: What do you know about Taiwanese Festivals."
The German lesson won the Best Visual Design Award. This course, lectured by Dr. Kao, Huey-Shya from the Department of German, is built for learners who are preparing for the German A1 test. The "Taguchi Method" lesson, lectured by Dr. Yu, Jyh-Cheng from the Department of Mechatronics Engineering, won two awards for the course offers real-life examples. The third awarded lesson was lectured by Dr. Ye, Shu Hua from the Department of Applied Japanese. The vibrant class includes many lively topics, such as the topic of visiting Taiwan as a virtual backpacker and festival differences between Taiwan and Japan.
---
Translated by Jess Lin Reviewed by Prof. Amy Tang